BAC-LOK Twin Ferrule Assembly Instructions
BAC-LOK Tube fittings are delivered completely assembled, finger tight. They are ready for immediate use. Disassembly before use can result in dirt or foreign materials getting into the fittings and causing leaks.

BAC-LOK Tube fittings are installed in two easy steps.

1. Insert the tubing into the BAC-LOK Tube fitting until it bottoms in the body.

2. Tighten the nut to finger tight and tighten as follows: Mark the nut to help count the number of turns and tighten 1 1/4 turns. (For sizes 1/8" and 3/16" only – tighten 3/4 turn.)

Re-assembly of BAC-LOK Fittings
BAC-LOK fittings can be assembled and disassembled repeatedly.

1. Fittings shown in disassembled position

2. Insert tubing with pre-set rings in position.
3. Tighten nut by hand. Then rotate nut with wrench one-quarter turn, then snug slightly with wrench.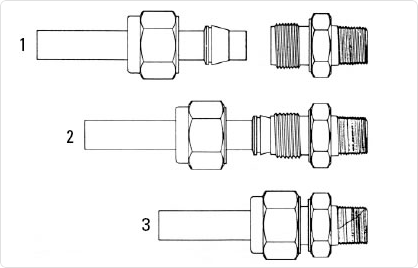 Pre-assembly of BAC-LOK Fittings
BAC-LOK fittings can be assembled and disassembled repeatedly. Below is information on pre-assembly.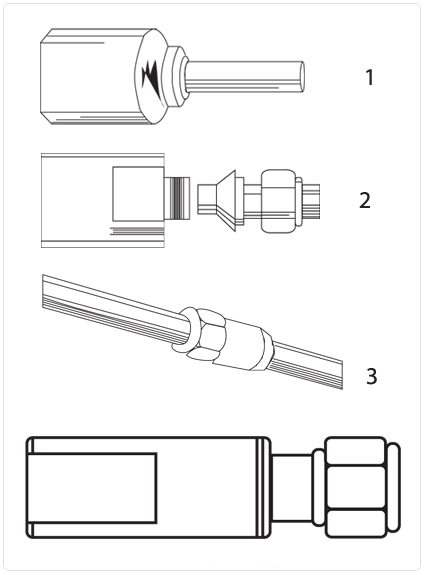 (Please note: The 4th image above shows our special pre-assembly tool.)
Tube O.D. inch
UN thread
Part number
1/8
5/16-20UN
2BAPAT
3/16
3/8-20UN
3BAPAT
1/4
7/16-20UNF
4BAPAT
5/16
1/2-20UNF
5BAPAT
3/8
9/16-20UNF
6BAPAT
1/2
3/4-20UNEF
8BAPAT
5/8
7/8-20UNEF
10BAPAT
3/4
1-20UNEF
12BAPAT
7/8
1.1/8-20UN
14BAPAT
1
1.5/16-20UN
16BAPAT
Tube O.D. mm
UN thread
Part number
4
3/8-20UN
4mBAPAT
6
7/16-20UNF
6mBAPAT
8
1/2-20UNF
8mBAPAT
10
5/8-20UNF
10mBAPAT
12
3/4-20UNEF
12mBAPAT
18
1-20UNEF
18mBAPAT
20
11/8-20UN
20mBAPAT
22
11/8-20UN
22mBAPAT
25
15/16-20UN
25mBAPAT
Assembly Instructions
It is recommended that when Bac-Lok fittings are to be Installed, a pre-assembly tool is used, pre-assembling the joint.

The joint is then broken, and assembled with, nut, ferrules & tube attached, insert into the Bac-Lok coupling body until the seating seals firmly. Tighten the nut until a rise in torque is felt, then tighten the nut a further small amount to ensure the assembly is positively sealed.