Naval & Shipping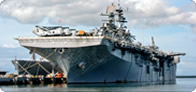 Ship building uses many materials from wood, to steel, to carbon fibre. Today's modern ships are built using modern technologies in welding and fabrication with the latest steels.
When it comes to naval shipping the best of technologies are employed. Titanium is used as it is able to absorb radar signals to help prevent detection. Brass and Aluminium Bronze are used in water portage systems, and deluge systems for fire protection.
The fittings used in shipping have to be able to withstand the highly corrosive properties of salt water. Materials such as Titanium, Alloy 400, Aluminium Bronze all have excellent abilities when working in this environment. Titanium is very light but gives great strength and anti-corrosion properties. Alloy 400 and Aluminium Bronze have excellent non corrosive properties in the sea water environment. Aluminium Bronze however, is best suited to low pressure applications.