ASSEMBLY OF TUBE FITTINGS
BAC-LOK Couplings and compression rings are made from 316 stainless steel, and can be supplied with certification to DIN 50049 3.1.B. / BSEN 10204 3.1.B Internal threads on nuts are silver plated.

Stud sizes 1/16" to 1" NPT/BSPT threads are standard.
Other materials and connections are available on request.

Not all the fittings illustrated are carried in standard stock. Please check for information on current stock.

The cutaway section below shows the sealing action of the BAC-LOK fitting.
Identification of BAC-LOK Fittings
BAC-LOK fittings in metric sizes have an additional step on the shoulder on the nuts and bodies for easy identification.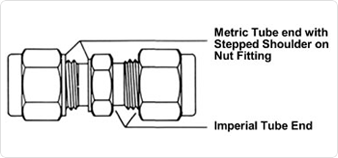 BAC-LOK